Nephilim Giants found in Brewer Cave by Tommy Truthful 
Alternative archaeology, with its array of unconventional theories, has always sparked lively discussions among academic experts and the wider populace. Topics such as extraterrestrial influences, origin stories, and the existence of giant beings represent a particularly enigmatic corner of historical inquiry. What drives the perception that these narratives are beyond the bounds of plausibility?
In this exploration, we're going to delve into the tale of Brewer's Cave – an alleged site of an ancient giant's burial in Ohio, United States. When this story first emerged, it ignited a wave of speculation, linking it to other similar findings, and suggesting there might be a kernel of truth in the ancient tales of giants.
We're about to embark on a journey through forgotten Native American lore, hidden archaeological discoveries, and some of the most astonishing frauds of the 20th century. Are we on the verge of uncovering reality? The answer, it seems, may still be waiting to be found.
Unearthing Brewer's Cave Our story takes us back to the 1950s. Brewer's Cave, its exact location still a mystery, is purported to be near Manti, Utah. The cave owes its name to John Brewer, who stumbled upon it around 1955 at the age of 22.
The Brewer Cave narrative is shadowed by skepticism, primarily because the discovery of the burial chamber was witnessed solely by John Brewer and his son, with no other independent verification. Brewer, a dedicated researcher, chose not to divulge his findings to major institutions like the Smithsonian, concerned that the significance of his discovery might not be fully appreciated or acknowledged.
Nevertheless, Brewer's legacy includes meticulous sketches of the burial chamber, detailed drawings of the mummies, and an assortment of unique and remarkably well-preserved artifacts. These items continue to spark intense discussion even today. Among these finds were exquisitely carved stone artifacts, copper spearheads and arrowheads, intricate jewelry, pottery, and a variety of writings that have defied interpretation.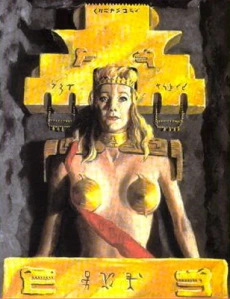 The origin of Brewer's interest in the cave traces back to a tale recounted by an elderly man named George Keller. Keller, in his younger days, had been guided to the chamber by a local Native American named Lone Eagle. This chamber, nestled in the mountains inhabited by the Native community, was revered as a sacred site, known as the "Cave of the Great Spirit."
Decades later, in the 1950s, Keller shared this story with John Brewer, instantly capturing Brewer's curiosity. Initially, Brewer's intention was to explore the area for arrowheads, a hobby of his. However, upon uncovering the initial evidence in the cave, Brewer quickly realized that he might be on the brink of uncovering something far more significant than mere arrowheads.
Tags
brewers cave the untold story
Giants found in Brewer cave
Giants found in cryostasis in Utah
giants found in utah brewers
in utah brewers cave
nephilim
Nephilim Giants found in Brewer Cave
nephilim giants found in utah
records brewers cave
red haired giants
Tommy Truthful
truth mafia
truth mafia podcast