The Changeling
**"The Changeling" Review: A Disorienting Tale Lost in Translation**
*By Tommy Truthful*
*Date: September 10, 2023*
Apple TV+'s adaptation of Victor LaValle's critically acclaimed novel, "The Changeling," ventures into a realm where fairytales seamlessly morph into nightmarish realities. The journey of Apollo Kagwa (played by the brilliant LaKeith Stanfield) as he feverishly searches for his mysteriously vanished wife, Emma Valentine (brought to life by Clark Backo), promises to be gripping. But does it deliver?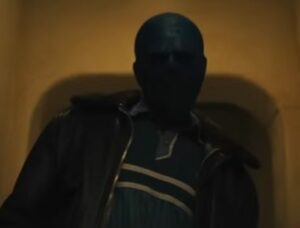 Set against the sprawling backdrop of New York City, the series interweaves Norwegian fairytales with rich narratives of Black American heritage, Ugandan traditions, and enchanting folklore. It's a captivating premise that, unfortunately, didn't entirely find its footing in its screen adaptation by writer Kelly Marcel.
The storyline unfolds in Fort Washington, 2010. Apollo's blossoming love for Emma, an ambitious librarian with a zest for life and wanderlust, is tender and touching. Following a reunion after Emma's travel escapade to Brazil, their whirlwind romance rapidly evolves, encompassing marriage, parenthood, and the associated challenges.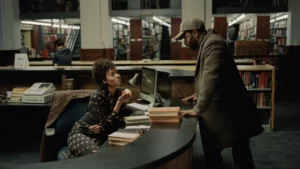 The darker shades of the narrative emerge with Emma's spiraling postpartum condition. It's a hauntingly stark portrayal of postpartum psychosis and the profound obligations of motherhood. Apollo's mother, Lillian (essayed by Adina Porter), poignantly comments, "Once a mother, always a mother." Yet, the series' choice to centralize the initial episodes around Apollo's perspective, only transitioning to Emma's viewpoint in the latter episodes, feels somewhat misguided. This approach inadvertently casts Apollo in an unflattering light, often seeming dismissive of the profound maternal experiences that Emma endures.
The series' intricate web of tales can be dizzying. While literary works have the luxury of extensive detail, its translation to screen can mire viewers in excessive backstory. The sporadic flashbacks and historical diversions, though rich, often lead to narrative congestion. The eventual unveiling of Emma's perspective, covering their initial romance and pivotal moments from her past, does provide some clarity. Yet, Lillian's own backstory in the following episode feels like a tangent from a completely different tale.
"The Changeling" ambitiously attempts to tackle themes of memory, parenthood, and sacrifice. But its execution often overshadows its intent. The partial exposure of Emma's psyche and Apollo's limited grasp of events leaves viewers navigating a maze of hints with little guidance. Instead of an immersive experience, we're frequently left piecing together a cryptic puzzle.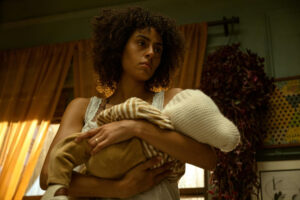 In storytelling, ambiguity can be a powerful tool. However, "The Changeling" often feels as though it's holding back too much from its audience. What might have emerged as a mesmerizing horror fantasy instead teeters on the brink of incoherence. Some tales, regardless of their enigmatic allure, might indeed be best savored in their original written form.
"'The Changeling' was released precisely 32 days following the Lahaina fires. Intriguingly, in a scene where a house is engulfed in flames, the address prominently displayed is "32." This number hints at the impending introduction of digital currency, the beast system, and the initiation of a sophisticated smart grid. It's almost as if these film wizards are engaging in a blatant form of predictive programming. This technique, referred to as the "revelation of the method" or "lesser magic," posits that they must reveal their intentions before acting on them. It's believed this act liberates them karmically, especially if society remains passive and fails to counteract.
Such films appear to weave spells over their audience. Together with Paranoid American, we delve deep into the hidden occult connections within cinema. This level of insight is rare, with perhaps the only comparable insights being from J Dreamerz, who also offers exceptional film analysis. Of course, given that he's a part of the Truth Mafia, his caliber of work is expected. As I've always maintained, we boast the most adept content creators and decoders in this domain."
"Check out this link where I accurately predicted the earthquake 29 days prior to its occurrence: https://truthmafia.com/tommy-truthful/2-minutes-ago-mourning-in-hong-kong-the-entire-world-is-supplicating-humbly-on-bended-knees/."
Hey there! I'm Tommy Truthful, the leader of the Truth Mafia. We're a massive online alternative media conglomerate, bringing you authentic and unbiased content. Our team is comprised of carefully selected creators, ensuring they are not influenced by any external agendas. Our common mission? Delivering the truth right to your doorstep.

Paranoid American is the ingenious mind behind the Gematria Calculator on TruthMafia.com. He is revered as one of the most trusted capos, possessing extensive knowledge in ancient religions, particularly the Phoenicians, as well as a profound understanding of occult magic. His prowess as a graphic designer is unparalleled, showcasing breathtaking creations through the power of AI. A warrior of truth, he has founded paranoidAmerican.com and OccultDecode.com, establishing himself as a true force to be reckoned with.

Patreon
View Video Summary
';
Video Summary
The Changeling Conspiracy Cinema Podcast
Summary
➡ Tonight's Conspiracy Cinema Saturday, led by Tommy Truthful and Paranoid American, issues a deep-dive into the occult symbolism in Hollywood films and series, specifically focusing on the new Apple TV series, "The Changelings". Amid technical issues and discussion about tracking apps, the hosts also point out the prevalent use of blue symbolism and the recurring theme of fire in the series.

➡ The speaker is discussing various conspiracy theories involving number patterns and attributing symbolism to numbers that appear in details such as dates, addresses, and event timelines. These number patterns are connected to a variety of topics including earthquakes, the digital currency of the CDC, Apollo (the sun god), ancient Egyptian mythology, and the term "changelings". The speaker also mentions ties to the Antichrist, predictions of power outages and societal shift towards a 'digital beast' system with smart cities, cars, and homes.

➡ The text features a discussion about room two three seven's strange synchronicities, viewing Martin Luther's beliefs and anecdotes about changelings from his memoirs, and theological interpretations of morning star. It also reviews varied interpretations of Christian symbols and beliefs, ranging from astrological alignments to ancient libraries being burnt. They also talk about the changelings from Shakespeare's "A Midsummer Night's Dream" and their interpretations in various cultures.

➡ The discussion covers topics such as the lineage of mythical beings like the Watcher, Nephilim, Lilu, Gilgamesh, and modern-day giants, as well as the symbolism of the eight-pointed star and its links to ancient deities and modern entities such as CERN. The concept of changelings, beings that were swapped with human infants in various cultures, was also explored, alongside connections to wind demons and agricultural deities. Additionally, comparisons are drawn between the eagle and the serpent as representative symbols of the ancient gods Enlil and Inki and their war, with modern day implications in nation symbolism via flags.

➡ The text discusses the concept of changelings, beings that supposedly swap places with human infants, suggesting this idea may have historical roots in explaining developmentally challenged children. It also explores the topic of a series where a character possibly realizes her infant is a changeling, as well as the origins of maternity leave, which was originally believed to keep the mother's child protected from supernatural harm.

➡ The text discusses the difference between fairy tales and legends according to the Grimm Brothers, with the example of a legend involving a changeling. It mentions historical practices of identifying and dealing with suspected changelings, referencing cases from the late 19th and early 20th century. The text also introduces the concept of a talisman, specifically a red thread tied around the left hand for protection.

➡ The text presents an analytical discussion on symbolism, themes, and possible future plot predictions of a series, possibly revolved around the figure of Apollo from Greek mythology. The analysis also delves deep into color symbolisms, particularly blue, linking them to various mythological, historical, and spiritual narratives. There's mention of Alistair Crowley, a known occultist and discussion about potential censorship issues with YouTube.

➡ The author discusses various conspiracy theories related to unnatural disasters, predictive programming and coded language used to beat AI algorithms. They emphasize the importance of their Truthmafia.com platform where content from various creators is shared and discuss a range of topics from ancient Chinese mummies to the Phoenicians and RH negative blood type.

➡ The speaker delves into an array of topics including the Phoenician race and its secrets, appreciating fellow content creators, discussing Vision 2030 in Saudi Arabia along with its associated numerological significance. He also details Paranoid American's expertise in emerging technologies like AI and its applications in art and NFTs. Further, the discussion covers the integration of AI in narrating news and videos, the speaker's personal perspectives on trending news, and his prophetic predictions based on numerological codes.

➡ The speaker discusses various topics including a unique Astrological alignment, the Phoenix events symbolizing resets, the concept of golems and Homunculi in Jewish folklore and alchemy, aliens and modern interpretations, as well as their plans for upcoming bookings and podcasts. Additionally, they highlight the importance of crediting original sources when utilizing someone else's research or theories.
View Video Transcription
';
Video Transcription
The Changeling Conspiracy Cinema Podcast
Summary
Video Transcription
Tonight we welcome you to a realm of mystifying enigmas. A realm where the boundaries between fact and fiction blur between the visible and the invisible. Welcome to Conspiracy Cinema Saturday. This is not your typical movie night here. Your guides are Tommy Truthful and paranoid American. The most tenacious detectives of the Truth mafia. These brave cinema sleuths are on a mission to unmask the obscure and decode the ubiquitous, to delve into the shadows of Hollywood's most popular and cryptic films and expose the hidden occult symbolism and messages concealed within.

Are you ready to question the world as you know it? Join us as we journey into the underbelly of the silver screen one frame at a time. So grab your popcorn and get ready for another episode of Conspiracy Cinema Saturday from Truth Mafia. This is called fair use and is allowed for purposes of criticism, news reporting, teaching and parody which doesn't infringe of copyright under US 17 107 we got a special episode for you guys tonight that we're going to get into and I'm really excited about this one.

It is the new Apple TV series, The Changelings. There's so much coding in it. And before I get going guys, all the links are down in the description of this video. Me, Paranoid American, his websites, all of his social media links and all my links. And if you're looking to get a booking, that's also down below in the comments or in the description part. Now for my people, we had a little situation on my website on Truthful TV, so I had to take everybody's reading.

This only happened if you scheduled a reading in the last three days, you're fine. But prior to that, somehow Google had my damn website set on the wrong time zone. So they had it like I was in and in this three day period there was like probably over a hundred people that did a booking and so every one of them is on the wrong time zone. So I just had to push their reading forward by a week to refix it all and reschedule it.

So if you didn't get yours, that's why just go look at your email, you got rescheduled. And if you didn't get rescheduled yet, just reach out to me at 234-425-2099, give me a text, text only and we'll get you back on the schedule. I'm sorry for that. Google tries to mess up everything I'm doing, but I literally guys was so stressed out when I seen that I couldn't even believe it.

That's my kind of luck, what I run into. But yeah, we got a great podcast for today. I'm really excited to bring this one to you. There was so much coding and predictive programming in this one. Me and Paranoid American, we couldn't even believe when we first seen we actually had a different podcast scheduled for today and we pushed it aside. Paranoid American wasn't a big fan of the Meg the Meg, the Trench.

That's what I just wanted to do. Chinese propaganda? Yeah, that's pretty much what it is, bro. I got this new app on my phone, and it shows me who's tracking me and where they're tracking me from. I'm going to do a video on it and show people the app, and I think I pay $6 a month for it or something. But anyways, most of the tracking is coming out of China.

Are you aware of that? Paranoid American? Yeah, man, when I seen that mean you got TikTok for sure. The phones, it's just telling China everything you're doing constantly, then, wow. You think that's why it's triangulating China? Because my TikTok app, I mean, that's a huge component of it. 100%, man. Oh, man. Yeah, it's nuts, man. They're trying to track us at all times, and then when you're set up on a VPN and you don't allow them to track you, they get really mad.

They try to mess your computer up and do all kinds of stuff because they want what do you have to hide? That's kind of the well, you know, after I seen what happened to Lahaina. Yeah, I'm hiding. Not only am I hiding, I'm over here painting my house blue, my kids blue, my car blue, and I am leaving out blue smoke. Yeah, blue smoke. So in this series, guys, they got this entity.

He's like a demon looking thing. He growls at the kid, and he is completely blue. When I seen that, I'm like, Whoa, what is going on with this guy? And they really don't give us much context on him. When he comes to the door and blows out the blue smoke, he rips his face off. And he's the kid's father because the kid's father had left him. Right. His father's white, his mom's a black lady, so his father leaves him at four years old.

There's that connection to that number four. Again, we've seen it with stranger things. Stranger things. Four. And four is a number of death. Look it up. The Asian cultures. There's actually a fear of the number in a phobia. It's called tetra phobia fear of the number four. So I found that interesting that that was the age that this guy's dad left him, and there was just so much blue symbolism throughout the whole thing.

The blue umbrellas, you'll see it when he's walking through. I mean, I couldn't believe all the blue I was seeing in it in that strange blue smoke. What did you think about that paranoid American? They really didn't give us much context on it yet. Yeah. And to be honest, I haven't read ahead and read the book to see exactly how it all plays out. So I'm kind of experiencing it from just a regular viewer standpoint, and I haven't put the blue smoke together.

I don't want to make a huge prediction, but it's the closest thing to black goo. I think the blue smoke, in my mind, represents magic, seeping into the normal world. So I think that after these first three episodes, we're going to probably get into a more magical territory because it's just been hinting at it, right? Like, this is a supernatural being and the name of the series is Changeling.

But we haven't really gotten supernatural outside of this scene that you're showing right now. Yeah, that is definitely true. And my boy, Paranoid American, has a whole presentation put together, a really good one that he's going to show you guys. Before he gets into that, I just want to touch on a few things. The first thing is, yeah, we've seen the black goose symbolism with Blue Beetle. If you watch our Blue Beetle decode and you can watch all of our videos, guys, on Truth Mafia.

com, pretty soon we'll be launching we want to make sure it's right. So it'll be a little while, but we'll be launching Conspiracycinama. com Me. And then, you know, I also feature our videos over on. com there's a page that's called Conspiracy Cinemapodcast. And we've seen this blue symbolism over and over and over again. Remember, we had Trump with the blue steel, and blue steel is 36 matching the Adam and Eve story, which was about this global cataclysm.

And guys, we're on the 36 year anniversary of Harp, and we just had a major earthquake. Yes, we did. And I predicted it, and I have proof that I predicted it. So we'll get into that in a minute, too. I'll show you about this earthquake that we just had that took place in Morocco. And I'll show you on 811. The day I decoded this decode, it was over on Truthmafia.

com. I said watch out. It's right above this picture. Go look on the Taylor Swift video. It's timestamped for August 11, and in big red words, it says, Watch out for upcoming earthquake, literally. And I showed the connection to the earthquake of 6. 9 magnitude in 1989, and it's tied to that nine two three number where Sirius the dog star is nine two three. It was at the 38 degree elliptical on August 9 when the trending story in the world was the Lahaina fires.

And the Lahaina fires started exactly 38 days after the 38 year old Tiffany Gomez flipped out on the plane. And fire is 38. Just letting you know. So it was tied into that serious helical rising at the 38 degree point on that day, right. And it all goes back into China, hitting us with a nuclear weapon. It's really what is coming. And they're saying the sun's giving off massive amounts of nuclear radiation right now.

Some people believe all these events that are happening let me turn off my phone. Sorry, guys, that's off. Some people say that these events that are happening is natural disasters. I disagree. I think they are totally unnatural in nature. And it's because this year is Harp's anniversary, right? So not just that. It's the 223rd, 2023. And Harp was patent on the 223rd day of the year. So here's this earthquake in Morocco, and this ties into the changeling.

Okay, now check this out, guys. In the changeling, there's a fire theme from the beginning. Did you notice that, brother? Paranoid American. Oh, yeah, we're going to get into it, too. We're going to get into it. So when they're coming out of the house fire, you see 32 as the address, guys, right? And so I'm like, okay, what's up with this 32 number? Now, my original video I released on the earthquake, which is in the middle of the night, I just woke up, I seen an earthquake happen, and I was kind of just free flowing.

And I said, I think the change thing came out 33 days after. And then I went and looked, and it was actually 32 days, which makes even more sense because I found that connection later that there was a 32 on the address when they're coming out of the fire. And CDC, aka CDCs, is 32, which is their digital currency. Guys, 32 spelled out equals 34 matching billionaire bitcoin.

Selenium is 34, the element which has sulfur. And as you see, I have it underlined right there. What do they use Selenium for? Oh, just to make solar panels. Just to make solar panels. Electric conductivity. As the power grid is going to go down, we have power outages everywhere from this earthquake today. And they're burning the landscape. They're burning the old landscape to launch their new digital landscape, this digital beast system that eventually they want to have a quantum copy of you, a quantum copy of your soul, your consciousness, in this digital grid that they're setting up, the smart city, the smart grid, the smart cars, the smart homes, it's all tied into that.

The Antichrist, the coming of Osiris, which the changelings he kept saying the whole time, I am Apollo, the sun god. Did you notice that, bro? He kept repeating that statement. Yeah. So I got a point to make there is that I'm going to take him at his word. The amount of times that he was so explicit with saying, I am Apollo, the sun god, over and over again.

If a writer is not trying to be repetitive, they're making a point. So I feel like I'm just going to take him for his word. He is literally Apollo, the sun god in this series. Yes. And it's tied to Revelations 911 releasing a Batadon, aka Apollyon, CERN rituals. What they're really doing with CERN, the duot, the realm of the dead, we'll get into all that. But it was 29 days from August 11, the anniversary of Harp, until the earthquake on September 9, guys.

So 99. And antichrist is 29. Apollo is 29. He kept saying that over and over again. The Morocco earthquake, at least 1037 people dead. Well, one, three, seven. You add the 47 by 90 degree freemasonic compass. What do you get? One, three seven and 137 is the 33rd prime number matching masonry in false flag. False flag doesn't mean it didn't happen. It means it's controlled. Like 911, what we seen there.

It means that maybe it could have been weather modification or something like that. I'm not saying it is because I'm streaming this to my big YouTube, but I am just putting the evidence out there for you to look at. Now, another really interesting thing, but it being 32 days, that's four weeks and four days, guys. Harp is 44. So it's four weeks and four days after Harp's anniversary that this earthquake pops off and it's all tied in to the release of the Changelings and the smart cities and the smart Grid and Apollo.

That part blew my mind. In the one scene, you'll notice the first time we really see the baby in episode two, he goes to answer the door and just for a split second, you see the address 305 on the door. Now, 305, guys, is duot. Right? The duot is the realm of the dead in ancient Egyptian mythology, where the deceased people would go to continue their existence. Right? The only way out of the duot is through the Osiris gate.

And remember Osiris? They're trying to put Osiris back together again. He was chopped up in 14 pieces. Osiris is their coming antichrist. This new antichrist, the Mahadi, many different names. Which Mahadi? The Hidden Imam is 305. Matching. That the Duat. The Lake of Fire is 305. So we have this 305, one, two one connection in the first case of Code Red. If you're on our YouTube and you don't know what Code Red is, go to occult decode.

com, type in well, you'll just look at bandwidth and you'll see exactly what Code Red is. It's the situation that changed everything. Right? And the first case of that official event happened on January 21. One, two, one. And then the new variant was on twelve one of 21. One, two, one. So we see this one, two, one over and over again, matching the Lake of Fire. One, two, one.

CERN ritual. One, two one, antichrist one, two one. Forehead sign. Forehead sign is 305 in the same Latin cipher matching the duot. And it's 111 in ordinal. And six six six in sumerian matching witchcraft. And I'm not going to say the bottom one. You see the bottom one down here. I'm not going to go ahead and say that word, but you can clearly see what it's tied into.

Okay? Yeah. Tons of symbling. And this year, guys, is the 22nd year anniversary of 911. So we've had so many events where they've had their hand inside of it, right? We've seen it over and over again. Pearl harbor, 911, the Titanic, which brought in the Federal Reserve. I believe they know exactly what's going on and exactly what they're doing. Now, you can say 77. OKC. Waco. Ruby ridge.

Let's just throw them all in there. Yeah. On 911, flight 77 hit the 77 foot tall pentagon on the 77th meridian 77 minutes after takeoff. Like, come on, dude. There's not that many coincidences in the world, right? So, Paranoid American, what do you got lined up for us, brother? Well, first of all, yeah, like I mentioned, is based on a novel by this guy, Victor Lavelle. So if you find it interesting, it's worth reading the book.

I think me and Tommy are going to end up reading the book just to see if there's any other insight we can get from this. So I didn't realize it was based on a book, so I just thought that was important enough to share. Yeah, dude, I mentioned that too. 305 is Miami. As soon as Tommy brought that up. Yeah, that's my boy right there, Zach. It's definitely is miami.

And I was hoping I would see Rhonda in here. CJ, I haven't forgot you either, sweetheart. I'm going to get you your graph sent over. Text me CJ so I don't forget. Okay, sweetie. I just have so much stuff going on. But text me. I didn't forget you. She's really cool, lady. Me and her did a reading. And Rhonda, if you're in here, make sure you text me and the other girl that I was scheduled to do a reading for tonight.

So I got to talk to you guys about that and what took place with the scheduling. So if you could hit me up. But yeah, it's crazy, bro. I got to read the book now so I know what is going on. I have to find this whole angle out with this blue demon. I hope they elaborate on it more when we go into episode four, which is coming out pretty soon, right? Yeah, I think they will.

I got some notes in the very last slides that I've got some yeah, yeah, I think they will too. I'm hoping so anyways. And for the people that's on my Facebook, our new YouTube for this anyways, is Truth Mafia podcast and then of course, Conspiracy Cinema podcast. And all the links are down below in the description. So what's down with this slide here? Paranoid American. So this is how the whole series starts off.

It's talking about I think it was like July 5, 1825, and they've got this boat and they talk about how they barely made it. Well, if you look in the history of immigration to New York, that matches up with this exact date, July 5, 1825, this group of people called Sloopers who were sort of similar to Quakers and that Lutheranism was forcing them out of Europe. So they decide that they're going to immigrate to the New World and they end up in New York.

And they ended up founding this city called Kendall, New York, which I hadn't heard of. It's on the west Side of New York. So if you actually landed in New York from Europe and then just kept going straight until you hit the other side of New York, that's kind of where Kendall's at. And just since I know you love the numbers, man, I just noticed on the Wiki page that the town of Kendall is exactly 33 sq mi on the dot, and that the highway called Kendall Highway is New York State route two three seven.

So both of those numbers popped out at me immediately. And 237, guys, if you remember our decode, go back and watch the Indiana Jones decode. This is connected to the gamma code. Gamma code is that two three seven number, which has to do with the sun. Oh my God. We got 273 in the live right now, which is two three seven, just arranged differently. I swear to God.

We do that's from streaming from all of our platforms. You pointed that out at 2137. Yeah, at 2137. That's just organic synchronicity, man. We're tapped into some source code and this two three seven number in particular comes up a lot because this is room two three seven. I don't know if you ever seen the documentary of that name. If not, you should 100% watch it. No, I got to check it out.

And that blue moon we just had, it was the last one until 2037. There's all that two three seven connection to the blue fire code. You guys got to look up Blue Firecode on truthmafia. com to understand what we're talking about if you're new here, but yeah, man, great catch on that. Once I seen that one, that's the first thing I said I'm like. Oh, wow. The two three seven.

Yeah, pretty good. Okay, so this is where it gets crazy. Okay, so the people that were leaving in 1825, they were fleeing because of Lutheranism and Martin Luther, he had these things called the table Talks, where he would walk around with people and just talk about a lot of different things, just like whatever was on his mind, his philosophies. But this is the Martin Luther from Lutheranism, right? The guy that goes and puts the letter on the church door.

And he also wrote specifically about changelings. So this is in Martin Luther's own memoirs, Table Talks. He says, Eight years ago in 1532 at the sow I, Dr. Martin Luther, saw and touched a changeling. It was twelve years old. From its eyes and the fact that it had all of its senses, one could have thought it was a real child. It did nothing but eat. In fact, it ate enough for any four peasants or threshers.

It ate pooped, peed, and whenever someone touched it, it cried. And when bad things happened in the house, it laughed and it was happy. But when things went well, it cried. And then it goes on. In a separate analysis of Martin Luther's view on changelings, it had this little footnote, and it said that in Luther's theological view, a changeling was a child of the devil without a human soul, only a piece of flesh.

And this made it easy to justify almost any abuse of an unfortunate child thought to be a changeling, including the ultimate mistreatment blank luther himself had no reservations about putting children to so. So this is a pretty hard cry. I actually never did a huge deep dive on Martin Luther himself, but his table talks have come up before about how he believed in magic and sorcery and demons.

So this was interesting that he claims in no one's certain terms in 1532, Dr. Martin Luther saw and touched the changeling. So that's pretty wild. Yeah, that is pretty crazy. And he's the one that brought, what, modern day Christianity to the people. Well, Lutheranism. Okay, Lutheranism, which is yeah, I was raised Roman Catholic, so Lutheranism would have been a revolt against Roman Catholicism. And I believe it has to do with not having to listen to a church or a central authority.

I'm with that vibration I'm feeling that you were raised Catholic. Yeah, Roman Catholic. I feel bad for you, buddy. It's all right. I'm Sicilian. Half of my family is Roman Catholic, and then the other half is mean. If you look at it, it's almost just like Christian sorcery right. Like, it's like hardcore rituals and ceremonies. It is pretty much Christian, sorcery well, it's ancient Babylonian rituals that they're doing.

They even pray to you ever watch that video where they're saying, oh, Lucifer in Catholic Church in their reading? Yeah, with, like, the yeah, it's crazy. And people never caught on to that. Like, hey, they're literally chanting to this Lucifer, who is this guy? But it always confused me because they say, okay, Jesus, I am the seed of David, the bright and morning star. And then Lucifer is called the morning star.

So what is that all about? Well, the morning star and also Venus sometimes. But the morning star would be if you woke up early enough, you would see a star in the place where the sun would normally be. So it was also called, like, the false star. And that's sometimes where the connotation with Lucifer being like, the false God and sometimes Venus being represented as the same thing.

It's because if you didn't know enough about astrology, then you would maybe mistake that star as the sun, or you might know enough about astrology and be like, hey, that star is trying to pretend to be the sun. So it kind of got seen as, like, the false sun and all the connotations that came along with that. Oh, that's interesting from an astrological standpoint. Yeah, that's why they call it the morning star.

Yeah, it would be where you would expect the sun to be rising from, but it would be the star first. Wow. It was like a pump fake astrological. Pump fake. So, yeah, it's trying to imitate because Jesus Christ also, if you look at it, astrologically, that has to do with during Christmas, the death, where he dies and rises, the resurrection, it's all an astrological alignment. I'm not saying the real person, Yahshua Hamashiah, was not real.

I just don't think supposed to be worshipped. That was put in by the Council of Nicaea when they rewrote Christianity and all that, but I do believe he probably was real. And the Romans probably killed him. That probably wasn't the first time they killed him. They probably killed him numerous times. He was probably a teacher trying to bring the message of what we're in. It's kind of interesting, too.

In Islam, they walk around the hypercube, right? And Judaism, they got the cube wrapped around their arm and forehead. And then Christianity is a cross, which is the unfolded cube. And if we look into where that symbol stems from, it comes from Tammuz. The cross is from Tammuz, which was Nimrod's son. Right. He had a son with his wife. They say Queen Samiris. His mom. Or his mom.

Yeah, his mom. And they had a child together. Tammuz, where we get the symbol of the cross. Now, what they're trying to say is Jesus, which means Zeus. Guys. Hail Zeus. His name is Yahshua. There was no J's in the Aramaic language. It's literally impossible for that to be his name. And a translation of that into Greek would be Joshua, like the Gnostics called there's no that whole character is them making you put your energy back into Jupiter, to Zeus, to Enlil.

That's who it is. But, yeah, they say the cross unfolded means that he conquered this reality like he conquered death and was teaching people what we're really in some type of simulation by a predator consciousness predator, AI. If you look into the Gnostics, it's pretty crazy. And why were they killed? They killed all the Gnostics. They were killing them. Taking burning their libraries down. There's got to be a reason they was doing that.

I mean, that was the thing you would do. You would immediately run up and burn down the libraries because that destroys the culture. So then when you start telling people how things were, especially when it was only a tiny minority of the population that was literate and that could go into library and use it and since you brought that up, man, I just have to point out that this whole entire series makes so many references to ancient libraries.

It revolves around this guy who's in search of rare and hard to find books, right? And then he hooks up with a lady that runs the library, and there's one shot in particular that he's going to the library, and the camera shows her bumper sticker, and it says Librarian of Alexandria on it. So I really do think that this series is talking about sort of ancient texts and ancient knowledge, and this guy's search of ancient.

Wow. Yeah. I didn't get a screenshot of that particular scene, but just trust me, bro. That's what you think that one is. And what's this one? This one kind of so this is just another example of like changelings have been around forever. They're part of culture, although they've kind of been weeded out a little bit over the last century. But even in Shakespeare Midsummer Night's Dream, which is one of his more popular plays, an entire plot of that play is that the king and the queen of fairies are fighting over who gets to own this little changeling boy.

And the changelings, if you go to the next slide, we'll break down what changelings are a little bit because there's a lot of different versions of it. This is going to come up, so I just want to get this one out of the way. You already mentioned the Enlil and the Leo, which come from the Lilo, which were these wind demons. And Pazuzu, who's come up in the Dahmer breakdown.

He's come up in a whole Ouija board breakdown. But Pazuzu is sort of the king of these wind demons. And he's also said to be kind of the same class of where Gilgamesh came. If you if you follow that lineage, it kind of goes like Watcher to Nephilim, to Lilu, to Gilgamesh, and then finally into just regular giants and then modern day. So anyways, we'll come back to this wind demon thing pretty quickly.

In Pazu. Wasn't this the entity that was in the Exorcist? Yeah. Exorcist three. This is the one that Dahmer said that he related to the most was this Pazuzu demon. It was a reptilian god they worshipped, guys. That's all I'm going to say. And the symbol. Look at that symbol right there, guys. It looks very much like the star of Anana. The star of ishtar that eight pointed symbol which we see over and over again throughout culture in the connection to CERN.

Right. It looks exactly like Anana's naming cuneiform that symbol we see, and CERN has the eight bars there's, the eight spokes on the wheel in front of the Vatican. It's all tied into this eight pointed star, this Babylonian star, which there's a major thing going on with 50 right now. I can't get into that too much because they always take me down for talking about famous people. But his birth card is the star card, so I find that interesting.

And it just ties back into that stargate that they say would open up in the sky and these reptilian gods would come through it. So I believe they're fallen angelic entities. We've seen it. When you're coming into Sin City, go figure. They got a giant eight pointed star as they welcome you into Sin City. And this is what it would look like. The bottom depiction right there. You see how that eight pointed star would open up in the sky.

Jay dreams breaks. It down in full detail. Cosmic mountain, all that stuff connected to the plasma apocalypse. We're going to have Jay Dreams on a couple of the upcoming episodes. He does a bunch of movie breakdowns too, man, and I'm interested to definitely have him on with us. He did one last time, bro, on Indiana Jones. And then he put mine in your video link in his description and plugged us in it.

He literally texted me as me and you were doing that podcast. And he's like, bro, I'm working on Indiana Jones right now, as we were live. So it was really cool. You know how people think alike. Shout out J Dreamers, dude, he's on the wavelength for sure. It almost feels like we're all tapped into the same radio station sometimes. Yeah, and I always call him J Dreams. It is definitely J dreamers.

Guys, I'm not good with yeah, that's my thing. Go ahead, brother. Well, I was going to just say this slide. If you want to shout something else to Jay Dreamers, throw it out. Oh, no, no. Go ahead. So this is kind of on the back of that Pazuzu thing, and also because we're eventually going to be talking about the European version of changelings, but the exact same concept also existed not only in Mesopotamia, but also in ancient Egypt.

So this is from an old research paper in the 80s. It says, the belief that jinn may steal a human infant and put their own infant in its place is widespread in numerous parts of Egypt. And then he also mentions here, and this is where the fire thing really comes into play. So an Egyptian medical doctor, Abd URA Man Islami, wrote in the late 19th century about specific rural remedies for the problem.

Right? This is like the backwoods of Egyptian sort of shamans. And he says that in the Baharia province, they would put a child around sunset inside an oven which had no fire underneath, close the door tightly and leave it there in morning. And when they abandon it, say, God is between us and you give us our son and take your own. And this you're going to see evolves over many years to where they actually start lighting the fire.

And then the theory becomes that if you put a changeling into the fire, then it'll force the like, if it starts to cry, then that means the changeling just got swapped back out for your real baby. Then you can grab the baby back out of the fire. But that was sort of like the go to method of how to determine if your kid was swapped with a changeling or not.

And it dates all the way back to Egypt, where they know, put these children in like a wow, that's that's pretty nuts. So that ties into ball. Yeah, dude. Ball Malok. And like I said about the wind demons, right? The Lilo and Pazuzu, if you think about like, what was Zeus? Right? Zeus was a wind god. He was a god of storms. The same exact thing as Baal and Malok and all of those agricultural deities.

They tend to be the gods of mean. It's just a theme and a synchronicity that I've been picking up over many different references to this stuff. But whenever someone mentions like a wind demon, it's like they went right to the top. Boss right. You put the cheat code in, you went all the way to the end level. Boss yep. And yeah, you're always it's always these entities that are connected to the air and it just reminds you of who is the prince of the air.

It goes back to Lucifer. Did you know Lucifer's real name is Gadriel? Did you ever know that? It's what? Gadriel. That's his real looking to. Yeah. Ancient text. Gadriel. That sounds gay. Driel. Gadriel. Yeah, Gadriel. That's his real. So yeah, it's pretty interesting. It kind of sounds like Gabriel. Right. But all of them end with L, which L is Saturn, takes us back to Saturn and Enlil and then his Pops, which ANU, they called him the God of heaven.

And ANU, the sky god, he had that eight pointed star. That was his symbol. ANU. Yep. Sky god, wind god. There it is. Well, ANU also his son, took over his worship, like most people stopped worshipping ANU and started worshipping Enlil, which is still who they're worshiping to this day. That's Zeus. That's Jupiter. That is who they tell you Jesus is where they tricked you and got you to take your energy away from.

Yeshua. And put it into this other character. It's Enlil. Matter of fact, on 911, guys, we got a special episode with Rex from the Leak Project. And Rex is the first person that made the eagle versus serpent go viral. And this is this ancient war that we're having between these two brothers, inky and Enlil. Poseidon and, and the serpent is Inky and Enlil is the eagle. The eagle is really the bad one.

It represents the dragon. And the serpent knowledge is what Yahshua Hamashai was teaching this ancient serpent knowledge. That the real reason they purged that out of Ireland. That had to do with all the ancient druidic and teachings which lined up with Earth and stuff like that. Regardless what you believe on that, there was never snakes in Ireland. So it doesn't have to do with them getting rid of snakes, it has to do with them getting rid of this serpent knowledge that we're not supposed to have.

The serpent versus the eagle. You'll notice on flags that are controlled by the brother Enlil, it'll have an eagle on it, or especially an eagle with a serpent in its so it's pretty crazy, man, when you actually look into the symbolism on the flags, pretty much. Enlil seemed to have won that war and he's controlling probably 99% of this planet. Inky was punished for going to his favorite human, Noah, and giving him the plans to build a submersible and take all the DNA on the planet there.

Because Enlil was going to flood everything or allow it to be flooded. Right. They knew how to bring the waters from below. We have these waters down. We never run out of water, guys. There's tons of water underneath your feet. And they could bring the waters from below up. They knew how to do that. It didn't come from down. That's the trick. They tell you it comes from rain clouds and stuff, when really there's a huge water table underneath of us and these ancient aqueducts and the clean water that doesn't need to be treated.

They keep that for their self while they bottle up ditch water and sell it to us. So anyways yeah, go ahead. So that's how it was seen in Mesopotamia, ancient Egypt, and as it makes its way into German folklore, just once again, notice that wind spirits that cause lightning and rain, and these were part of the demons that were kind of seen as the reason that changelings might exist.

I don't have a slide for this one. So really quick, the concept of a changeling is that in a superficial way, you're becoming an old fairy, right, or an old troll, and you're towards the end of your life, but you're about the size of a baby. So in order to I guess they're like a life insurance policy or their version of putting grandma in a home is that they would go and find a newborn and swap grandma troll or grandma fairy out with the newborn and trick the humans into taking care of it well into its later life.

So it's kind of like sending grandma to a really nice retirement home where they're going to treat her really well because they think that she's their baby. That's the general premise behind this whole swapping out with changeling stuff. Wow. Yeah, man. That's an interesting play. And now you kind of see, we were left off in episode three that he was figuring out, guys, that there was this magical element to it all at play there, right.

And that witches were involved because his freaking girlfriend went crazy. So what did you think about and I can't show the clip, guys, because there's blood everywhere. She hits him in the face with a hammer. He's chained to a chair. What did you think about that episode? She was like possessed by a demon. And we get left we don't even know what she did to the baby, bro.

Well, maybe, man, because if you buy into the concept of changelings, then really, she might be the only one that realizes that it's not her actual baby. And it doesn't mean that the baby is gone. It just means the baby has been swapped out with the changeling. So if she knows that her husband is not going to believe her because clearly no one believes her. She even says at one point, well, you guys don't believe me, so there's only one thing I can do.

And he figures like, oh, yeah, that means we're going to go to therapy. But I think in her mind, it's like, no, I need to go and get some chains and chain you down and do what I have to do because it's the only way out. That might be a twist, but she looks so demonic right there. Yeah, but notice that she said right after she had the kid, she was like, no one told me that.

After you have a child, you feel like if anything bad happens to them, you'll unalive yourself. You wouldn't be able to take it if anything happens. And I think that that's what happens. Right. She realizes that her baby gets swapped out with a changeling, so she snaps. So I don't know, man. I'm on the fence on whether or not she's possessed or whether she's the only one that's sane.

Yeah, that is very interesting. I wonder what it is too. I don't know. I'm left wondering that part. So I didn't really think about that aspect of it with the kid. I just thought she was going kind of crazy and that's why she thought that. But then you look into this whole changeling things and what they really are, and so, yeah, there's going to be this magical layer there that we didn't even really know about.

This gets a little wild. So again, showing how strongly people believed this changeling thing, it wasn't just like in one tiny Irish town for 50 years, and then it went away. This was widespread throughout Europe and again, as we saw Egypt, Mesopotamia, you could probably throw a dart and find a place that had a version of this. So another side effect of this is that they would actually dress children or they would dress little boys up as little girls.

Because another part of this changeling, for whatever reason, is they would only swap themselves out with boys so that if you had a daughter, the daughter would more or less be safe from being swapped out with the changeling, and they would just start dressing their young boys up. And I think that they've got I mean, there's all sorts of other reasons, I think what's called breaching, maybe, or breaming, where you would dress your boy up as a girl when they're just a baby.

And this, I think, has some to do with that. It's a cultural aspect that maybe gets buried away because people are more embarrassed about how many things we do that are just steeped in either superstition or maybe like legit magical practices. Right? Yeah. There is definitely a magical element to it. And they were trying to maybe hide the identity. So this changeling, wow, look at this thing, guys.

Yes. There's like this concept that a changeling could live forever or it could outlive you and it would eat you at a house and home. Remember that quote from Martin Luther? And he was like, it can eat the amount of four people, so there's a lot to unpack. So like, the folklore aspect of this is clearly supernatural and they're talking about demons and all this. This particular story, the changeling who stretched.

This is where it gets into maybe some historical and real territory. So changeling might have kind of been a code word or a placeholder for a developmentally challenged child. So if your kid should have been off of breastfeeding, but it just isn't progressing into that next step of growth and it's challenged, then they would start to see these kids as burdens, like unbelievable burdens. It's almost like, what you mean like this kid's not going to turn eleven and I can just send them out into the field and send them out to get work done.

I'm going to have to actually take care of this baby forever. Even when it becomes an adult, it still has the mentality and the needs of a young child. It can't go and live on its own. So there might have been some interplay here with people calling their children that were developmentally challenged as changelings, as a way to make it justifiable to do horrible things to them. And Martin Luther was kind of on board with that.

Like Martin Luther might pop in and maybe you're just a little bit tired or something or just out of it and it's like, oh yeah, that's a changeling. That's just flesh from the demons. You can discard of that. So there was that aspect of being a changeling and how much it would have taxed you in the old times. This is 1590, and you've got a baby that won't stop crying, does nothing but eat, and by the time it's supposed to be walking and talking out on its own, if it still can't do that and it still needs you around, then they would start to see that as like, the devil took over your child.

It's crazy now in modern day, but that's kind of how they looked at this. Wow. Yeah, that is kind of crazy. But what if some changelings were taking over the kids too? I mean, I'm sure there was some of them cases, right? So this one right here is even more wild. Okay. The concept of maternity leave, you have a kid and in order to raise your kid and heal and just kind of welcome yourself back into this new way of life, you would have six weeks off.

And it's a very specific six weeks. And even in this changeling series, she has six weeks. So here's, this clip here, it says that the patriarchal bias of German society did not provide a woman's workload to be lightened for her own benefit. The only justification from this temporary relief from strenuous duties was the belief that a woman's child was being protected from supernatural harm. And you can see here in Jacob Grimm German mythology, this is from the Grimm Brothers.

A lot of people don't know that. Before the Grimm Brothers did a, um, sort of, like, analysis of folklore, Germanic folklore, they were experts in German history and mythology, so they published many different books and volumes on just the history of Germany. And in one of these books, they wrote, women may never be left alone during the first six weeks following childbirth. So this actually is crazy that the original maternity leave wasn't because you were giving mom a break.

It was because if mom didn't keep watch over her child, it could be swapped out with a changeling, and that was what the reason for maternity leave really was. And I think it just kind of evolved from there. And now we have maternity leave. And say it's for the mom. But originally, it was this very specific supernatural protection, because in those six weeks, the Devil had all the power to come in and either steal your kid or the changeling or whatever you believed in that flavor of.

Yeah, that's really interesting. And yes, Haley, in the comments, it's more than just your life path number. The reading we get into your life path number, what your destiny cards, your your birth cards that you're born with, how it lines up with you. And then I write a detailed report, the breakdown of what each of these mean, and that gets sent over to you via email. I'm actually getting ready to probably change a lot of them to email, only my readings, because I just don't have the time after I finish up the ones I've done already to do each phone call, they take, like, 30 to 40 minutes, 45 minutes each.

And I got so much going on, guys, so I'll probably just do it via email. It'll be so much easier, and I can knock, like, ten of them out a day. So, yeah, if that answers your question, honey. Let's see. Okay, so this is from one of the Grimm Brothers, I believe. And there was this side note that I found interesting where the Grim Brothers mentioned there's a difference between folklore or fairy tales and legends.

And they said the difference was that fairy tales were for children, but legends were stories that were believed by adults and therefore were most likely rooted in truth and not just as a fairy tale. And they mentioned that whenever one of their stories explicitly says, this is a true story, then it was talking about a legend and not a fairy tale. So here's an example of what the Grim Brothers consider to be a legend and therefore based in truth.

The following true story took place in the year 1580. There was a distinguished nobleman who had a large crop of hay. Again, think back to those Germanic hay demons that would come out and be the changelings. So every summer, a subject required a harvest. One year, a new mother among his harvest workers, a woman who barely had a week to recover from the birth of her child. When she saw that she could not refuse the nobleman's decree, she took her child with her, placed it on a clump of grass and left it alone while she helped with the haymaking.

After she worked on it a good while, she returned to her child to nurse it, looked at it, screamed and hit her hands together above her head and cried out that this was not her child. It sucked the milk so greedily and howled in an inhumane animal or manner that it was nothing like a child she knew. And this exact thing happens in the changeling series where she complains, It bit me.

And everyone tells her, like, what do you mean it bit you? It doesn't have teeth, it can't bite. But this is a direct reference to this sucking the milk so greedily. Yeah. Wasn't there a problem with her? Sorry, there's a little delay there. Wasn't there a problem like the baby wouldn't breastfeed off her, right? Yeah. At first it wouldn't eat at all, and then all of a sudden it started eating.

So, again, why was there this big change? And it would explain it if it was swapped out with a changeling, that would explain why all of a sudden the baby would just start feeding. So here's an example. In 1895. So you think originally it might have been the baby and then it was swapped out with the changeling? Well, that's what a changeling is. Yeah. Changeling means that they swap the baby out.

Wow. So at first, it was like she loved the baby. She said, yeah, if the kid died, I would literally give my life. I'd jump off the George Washington Bridge, which I'm going to look into that whole angle. And, guys, after this, there will be a full, detailed breakdown blog on truthmafia. com. So I always add way more to it. I'll probably figure out so much more angles.

And then when episode four comes out, I'll add more to it. Only once in a blue moon, we'll do an actual follow up to something, if it was really good. So we might end up doing that with this one after this. Let me show this. Oh, I got to go back to that one. Right, yes. This is just an example. Again, 1895. This isn't very long ago, all things considered, and this was a person that got thrown into a fire because she was accused of being a changeling.

They thought that she got swapped out by essentially and got thrown into fire. That's going to be this reoccurring theme of that. To prove you're not a changeling, you get thrown into fire. So that's 1895. And then here's another, 1924, that in rural Germany, people were still doing this they were still putting children into fires because of the concept of demonic possession or changelings. By 1924, people were like, oh, we don't believe in that silly folklore about changelings.

We know it's demons that are doing it, but it was like, the same practice. And then there's an example here in 1826. This is the best example of someone actually getting let off in the courts. So Michael Lehi died or was unalived by drowning in 1826, and the lady that did it, Roche, was found not guilty. And the judge said the jury would not be safe in convicting the prisoner, however strong their suspicion might be.

And this was because the judge believed in the changeling folklore as well. So he kind of saw it as like, hey, what was she supposed to do? Clearly, the kid might have been a changeling, so someone had to do something about it. And instead of the fire treatment, this was water treatment. But it's almost the same as witch trials. That was kind of how you would determine whether or not someone was a changeling.

You'd put them through witch trials? Yeah. Wouldn't they tie a stone to them and throw them in and see if they could float? Well, yeah, that would have been one of the water trials. That's pretty terrible. Wait, and if they floated, that was bad, right? Well, I mean, if they floated and they survived, then it was almost a proof, like, that you might have been a witch. There was no way to win one of those.

Yeah, you're damned if you do, damned if you don't. It's pretty crazy. And this is kind of linked back to what I was mentioning before. Not just developmentally challenged, but if your kid just got sick, then sometimes people will be like, oh, that's not my baby that got sick. They must have swapped out, like, a sick fairy or a sick troll, and that's a changeling. And do the same thing to identify a changeling.

You put it on the fire, and then if all of a sudden the kid gets better, then it was the fire that made it better, because the fire forced the changeling to swap back out with a real kid. As crazy and convoluted as it sounds, this is the legit folklore that's baked into our history for over 500 years. And we see in that scene where there's a fire in the house, and the fire she sets the fire on purpose because she suspects that maybe some of her kids might be changelings or there's something else going on here.

So that's one of the big takeaways is that you find out that it wasn't like an accidental house fire, that she did it on purpose, and she was trying to keep her kid there in the fire with her. I feel like this is all completely tied to this changeling folklore. Yeah, it was the girl that his wife that looked possessed, so maybe she is a changeling. Yeah, maybe she's a changeling.

Maybe it's like everyone's a changeling. Who knows? There's so many angles to look at. That's what I love about it. Who knows who the changeling is, you know what I'm saying? And then this one was just hard to ignore. But she comes back from seeing this sort of like witch doctor lady in Brazil. And it's not just a red thread tied around her wrist, but it's on her left hand.

And it was like right out of the that's that's basically a Hashani, which is a little red, a scarlet thread that you tie around your left hand to protect you from the evil eye. So again, this is like a magical talisman, a magical protection, and wearing it on this exact side and just to get a little bit deep here on the decode. But this sort of like red thread links to a very old form of magic, right? Like Babylonian or at least like old Judeo sort of pre Christian magic.

And he says, I'm God Apollo, and then cuts it off. So I feel like this might be the Roman pantheon stepping in and saying, hey, we're going to take over from here. So he's like, I'm the god Apollo. I'm going to break you free from this older paganism and introduce you to this new way of thinking from the Apollo sun god. Yeah, I never thought of it from that angle, actually.

I got a slide. Hold on, let me delete this one so I can upload this. I want to show you right here. And I don't know what that means. The left side of the body is the receiving side. I don't know what that actually means. Receiving of what? Energy? Spirits. I didn't look into it yet. Yeah, and they all wear them, dude. So I was going to connect it.

Know, I've seen it over and over and over again all throughout Hollywood. They wear them red bracelets, right? So there's something definitely going on with it. We know that. That's the first thing I thought of when I actually seen them cut it. I was like, oh, man, it's about to get real now. And the three wishes was going to come true. And that's where she met that lady.

I don't know what that lady was. Was she a witch? She met her by the lake she was not supposed to go to, remember? Yeah. And it starts out, too, where she's talking about a movie she saw where this lady, I think is from this area where there was a huge revolt and they killed their captors. So there's a whole backstory to this lady and the place that she went.

And they kind of do this Tarantino esque way of jumping forward, then jumping back. So you kind of just get bits and pieces. But it seems like she kind of dipped out of the world for a little bit. She kind of like ran away and disappeared and went and spent time here. And that's when she came back. And this red string around her left hand, this represented that whole journey that she went through.

Yes. And the one thing I noticed about that scene was, okay, so the old lady who tied that around her wrist, if you paid attention to her, she had one strange looking eye to her. And I use that on the thumbnail because we have the blue looking demon, right? We have the blue smoke. And then the lady that ties the Kabbalah bracelet on her arm at about the 30 minutes mark had the blue eye, the one blue eye.

So there's a lot of this blue code that we're seeing in it, guys, that we know without me getting in trouble, we know this ties back to the Blue Lodge, the Fires, right? That whole connection. And you look into it, it gets into these fallen angels that they're worshipping, mount Herman, that's on the 33rd parallel. That also is the UN, that UN color is blue. And Mount Herman has the eight pointed star on that 33rd parallel.

So we see that whole blue thing over and over. We've seen it in Blue Beetle. I mean, we've seen it in the Maui. Blue is actually a color, guys. It's actually a color. And I'm not going to touch on this one because I'll get in trouble because we're on my big YouTube. But anyways, you can see the slide. It all ties back to Osiris. In the Babylonian ishtar gate.

The Gate of Osiris. So we keep seeing Osiris, Osiris, Osiris, osiris ruled for 28 years. Maui blue is 28 matching Babylonian blue beam. I would say we're definitely getting ready for some blue bean energy. Come into a theater near you pretty soon and oops, I'm on the wrong slide now. Sorry about that. Paranoid American. Which one was we on? 17? Yeah, we're almost at the end here in, I think, the first episode or maybe in the second one, he's going to these estate sales and he's collecting boxes.

And first of all, he mentions very specifically that this was the 7th box that he opened. And I was just thinking, is this like the 7th, like opening the 7th seal? But anyways, he gets the 7th box, and in the 7th box is this postcard, I guess. And the postcard was written from Alastair Crowley to whoever the estate sale was of. And the postcard just said this one little quote, and I know I had heard it before from somewhere, and I don't even know if I want to say this word on the there are some people which are people from their mother's womb.

There are some people which were made people of men, and then there are some people which kingdom of heaven's sake. So what this was, though this is from a book called the Scented Garden of Abdullah, the Satirist of Sharaz. And I. Think it was written in parody form from Crowley and then he gave someone else attribution to it. But it was basically making a case for legalizing all types of human relationships of any kind you could think of because he saw that as just a way to criminalize a section of human nature.

Well, why am I bringing this up? Well, also in this scented garden is this quote praise, lacademian and despise Corinth. God gave me. Daphne. I won hyacinth. Well, this is Apollo speaking. God gave me Daphne. That's Apollo. I won hyacinth. That's also Apollo. And for anyone who doesn't know, Daphne was a girl that he fell in love with that never returned his affection. And then Hyacinth was a young boy that was the same thing, but he did get affection back.

Now this Daphne is interesting because in the Changeling TV series, not only did Apollo's dad, but Apollo himself follow this exact same path where they keep telling this girl like, hey, I want to go out with you. Hey, I love you. And they keep getting rejected, like time after time after time. And it's only through lots of perseverance that they comes up. Well, that is the story of Apollo and Daphne.

So it's impossible for it to not be this direct reference. And then if you go to the next slide with that in mind, here's this Crowley to Apollo connection. And then here you go. There's Daphne. Daphne was the first level Apollo, but unfortunately never responded to his love. And then there's the picture on the top in the middle. This is Apollo that's in the middle with Hyacinth basically sitting on his lap.

And on the right side is another picture of Apollo. And you were asking me before we started, why does that little kid that he's holding on the COVID why has he got a leaf in his hand? What's that leaf? Well, I think that the leaf represents another Apollo thing because Apollo, when he fell in love with Daphne, she gets turned into a tree. And in order to kind of symbolize this love or this supernatural transformation, it's this leaf from the laurel tree.

So that leaf from the laurel tree is directly connected to some of the adventures that Apollo goes through. So, I mean, that might be a stretch, but it feels like if there's a leaf and there's an Apollo and you're saying, what's the symbolism? It's got to be a Laura leaf. Yeah, because I was wondering that 100% when I seen the kid holding the leaf, I'm like, what is this leaf? Because, dude, they're not just going to put that on the front of the video for no reason.

You know what I'm saying? Right. I think this might be my last slide and this is where my predictions are going to come in a little bit. So in the very first episode, as it starts, he's pulling this book out and the book is the other islands of New York City. And the book itself is just kind of talking about other places to go in New York. It's not a supernatural book.

However, the premise of this, I think, is that he's going to realize there really are other islands in New York and there's going to be like these magical almost like going to hogwarts, right? It's going to be like a secret wall or something you slip through. I don't know what the mechanism is, but we're going to probably find out that Apollo is going to go on a very supernatural adventure.

And one of the places where Apollo's biggest temple is is on this island of Delos. So I feel like we might see some connections to Apollo and Apollo's temple and Delos. And also in this series, we're noticing that Apollo can almost see glimpses of the future or he gets these premonitions. Well, Apollo was also the one that set up the Oracle of Delphi. So this whole concept of Apollo being the god of foresight and foretelling the future, it kind of plays into all the symbolism.

So that's about as deep as I got on this. But I really do think that them saying that this guy collects books, he meets his girlfriend in a library. Of course, the book that he reaches out and grabs in the first opening scene of this entire series, it's going to have to play into it somehow. No, you did a phenomenal job, bro. I love doing these videos with you, Paranoid American, because I always look forward to seeing what you caught.

Whenever I see a really good video, the first thing I do is text you. Yeah, you were on the trail. This like I was actually happy, though, because I was like, man, I'm just going to rant about China and Chinese propaganda if we talk about Meg. And I started watching this and he finds that Crowley postcard and I already knew that this is what we needed to do.

You're like, wow, a couple of minutes in and we got a Crowley reference. I'm like, yeah, dude, I know. And I didn't reference the curly thing because I was kind of scared. But you brought it up perfectly. So I don't think we'll have a problem with that. YouTube is and guys, I'm sorry that we got to use code words and do this. That's how YouTube is. I mean, they'll ban you.

And all my hard work on this channel, the big channel, Truth Mafia podcast. I put in so much work over here. This is to interview our big names, but I'm going to use it as well as Conspiracy Cinema podcast for me and Paranoid American to put our stuff up as well. And I just didn't want to get that in trouble because we work really hard at this stuff, what's it trying to do.

So now is there any comments? And then before we go, guys, I got a couple of other things I got to show you on this earthquake thing. As a matter of fact, let me see if I uploaded that file video file. Let me see this. Yes, here it is. Okay, cool. I got to show this to you. Paranoid American to truth mafia. com. We had a 6. 1 2nd pause that 7.

0 massive earthquake felt in Morocco, Spain, Algeria. I probably did. We are now yes, you heard that right. These are not natural disasters, but unnatural disasters because we are in the year 2023. And Harp was patent on 811. The 223rd day of the year high active aurora research program equals two, two, three. 2023 is two, two, three. Flip it around. It's three, two two. And when I did look at that.

32 connection, guys. Earthquake. Oh, sorry. Let me go back right to where that was. So 32. We've seen that on the door right, coming out of the fire. And then I predicted this when Maui first happened, I did this deco before anybody referenced Mountain Dew. Even Donut seen my breakdown on it. And then he found even crazier connections brother Donut did with Maui blast and all that. And Baja, he connected all that together.

But I was the first one on the whole Mountain Dew thing because I knew it was connected to that with the whole dew. And then we got the pitch black one and now we have major blackouts, right? Pitch black deco. Actually 32 days. Not 33 like I said in this video. When I released this this morning, it was early in the morning I just had seen. So I went and actually double checked it after and it was 32 days, which even lines up even more connected to the Mountain Dew.

I told you guys, blackouts are coming. This is just a warm up for what is to come to America. Which they'll blame that on an act of war and electromagnetic pulse. They've been hitting us with the predictive programming of that. Just like they hit us with the predictive programming of the fires before they happened. It's all tied into the twin eclipses that make the X over the New Madrid fault line in the year of the unnatural disasters.

Harp's 36 year anniversary as we enter the Ember months or the amber months of orange. Another thing I warned you about. September, October, November, December these amber months and orange is 33. Guys, tomorrow we're going to do on Conspiracy Cinema podcast The Changeling, which came out 33 days counting the end date after the Lahaina fires. And it's all about fires when you watch it. Pay attention. Now that I told you that the link is in the bio truthfultv.

com, that's where I do my book. Well, you guys get at the end, it's pretty much just me plugging, but yeah, it's nuts. I wonder why I can't hear it. Paranoid American. Why is it not removing this? Remove? Add a stage. Oh, I removed him. That's why I'll say I think it's because it doesn't want to play it through, so it picks it up for feedback. Oh, is that what it's doing? Maybe.

I never know. So, guys, occult Decode. com, this is where you're going to find all the banned word list. So from now on, I'll make sure this link is in the description so you can follow along with us and know if we say a certain word, you'll know exactly what we're talking about. And this is how we beat the algorithms, because it's an AI algorithm, catching everything and then flagging the video.

Me and paranoid American are very observant. Most people don't pay attention to none of this, and that's what it is. And then after the AI flags your video, if you ask for a review, it's some guy in Bangladesh listening to what the AI is telling him to know it's just so they can check a box somewhere in Legalese that says, yes. A human reviewed this, even though it's like the computer telling the human which button to press.

Yep. And there's the code word for that energy, that energy that might be directed, if you get my drift. We call them dew drops. Shout out to Logan from decode your reality. He actually picked that name Dewdrops right there. And then Code Red is, you know what, guys? What changed the world, right? Or you can call it the Sea Urchin, the Kraken, whichever one you prefer. Kraken. I like that, too.

Yeah, that's what they nicknamed the new part of it. So, yeah, man, it's pretty crazy. And this one right here, it'll get you in big trouble if you say that real word. So it's just very cool. That was where this site came from, was because when I realized I wasn't allowed to say that word yeah, Paranoid American did not like that, that they did that to him. And he owns paranoidamerican.

com guys. He has some cool stuff over here. You can get chemtrail books for your books. You know Juan's new little homunculi book, which I just did, a video breaking down the Golem. This golem and what it is and how they're creating a new golem with the alien, or a new modern day Homunculus, which I would ask you if you've seen it, Paranoid American, but I know you probably didn't.

He's so busy he don't have time to watch none of my stuff. No, I haven't seen that yet. I just want to throw out, Too, that this changeling, the way that Martin Luther described it, as just a chunk of flesh with no soul. That's the exact definition of a homunculus, too. Wow. So there's that into it. Too. I would love to pick Juan's brain on this whole series and see what he thinks about the changeling and all that stuff.

Shout out to the One on One podcast. But over here on Truthfultv. com, this is where you're going to come to book, guys. So, Truthmafia. com, this is a conglomerate of all of us. Content creators. Biggest names in the game, right? You got paranoid American. He's got his own page over here and then all of his links are down below each video. Donut has his Jacob Israel J dreamers.

My brother archaics. Shout out to Archaics, the one on one podcast. Now listen, there's a few people on here that don't get along, but I don't care. I love them all. And my job is to be a leader. I built this to get everybody's message out so I don't get involved in the little dramas, guys, that ain't my vibration. So that has nothing to do with me. I love all sides of everything.

Certain people, that's their business. We're all grown men. But this is one of my new people over here, Robert Cypher. And he's fire. You know who he is? Paranoid American. I don't. Man, you got to introduce us. Oh, bro, this dude, you and him, I would love to see you guys do a podcast. He is phenomenal, bro. Let me show you his YouTube real quick. He's been doing it for him.

I can't believe you don't know who he is. I live in a bubble, dude. I live under a rock. Kind of shocks me a little, but yeah, he's pretty big, man. He's got atlantean gardens. But dude, he's so up your alley. Like okay. I thought of you when I watched this one, the Magicians. I wrote a whole blog on this, guys, on Truthmafia. com. So we have our AI.

It cost me about 2. 60 per video. And my AI pulls everybody's videos up. Juan's videos, donuts videos, archaics videos. J Dreams'videos. I already said Juan, everybody's robert Cipher's videos. And like I said, it cost me about 250 to do each one. But it's worth it because we're getting everybody's information out. He also owns Atlantean Gardens. And the only way to become a member of Truth Mafia is through me.

I'm the one picking people. And I'm fans of all these people. Everyone that I've ever picked, I'm honestly fans of them. This one's really interesting on the ancient Chinese mummies and the pyramids and DNA. I mean, dude, he's just on the next level when it comes to occult and breaking it down. Connected to ancient folklore. He has one on the Phoenicians. Bro, that would blow your mind. That's what I want to see you and him talk about.

The phoenicians. And then he's got one on the RH negative. That's how I found him, because me and my son are RH null. So I was looking into that whole bloodline and trying to figure out what I am. An alien. What the hell's going on with me? Yeah, my anunnaki. And then I found out about my culture. I'm half Sicilian. My other half is Basque Spain and Irish.

Which? The Irish and Basque. Spain. The Celtic speaking people. They're the same people that conquered ireland, Scotland, and the Spain region, which they say are descendants of Atlantis. And this is where it would go back to these red haired, green eyed kings, right? Some called them the yeah. Well, in Spain, too, you got the Iberian Peninsula, which was one of the final places that the Phoenicians kind of like, ran off to.

That's where you got New Carthage is all from that area. So you might have some Phoenician in there, man. Yeah, he covers it all, dude. He gets into the real the Phoenicians, what they were really looking for, this ancient race. Yeah, he's phenomenal, guys. If you haven't checked him out yet, check him out. His videos are doing awesome. He's probably one of the him and Archaics are two of the number one viewed things over here.

I think Jay Dreams is right behind them. Then you got me and Donut are up there. Paranoid American. A lot of your stuff gets viewed heavily, too. That new one you just dropped is doing really good. Oh, Sling and Stone does really good, too. Shout out to sling and stone. I did a blog on his one, too, this one. So he wrote down, or he did a video talking about this vision, 2030, which I knew nothing about.

And it's this vision coming for part of Agenda 2030, really? In Saudi Arabia. So after I watched this video, I wrote this full breakdown on it and what I thought of it. Envision 2030 equals 64, guys. Now, 64, all the world is a stage is 64. There are 64 squares on a standard eight by eight chessboard. That 88 number, which we know the fire started on the Lionsgate portal.

88 in the area code eight. And it's just funny when you see how these numbers all line up. The Gospel of Luke notes 64 generations from Adam to Jesus. We see this 64 number over and over, especially with the noble families and the noble bloodlines. It blew my mind how much I found connections with it. Yeah, you know me, bro. I love numbers, so I'm always looking into that angle.

And if I see one of my people do a video and it really inspires me, I end up doing a blog on it. So I'll write a blog to their video and kind of decode their video. I did it with Juan's new one, too, the one Juan did with Brother. Oh, I did archaics, which was fire. But this one, I guess juan and Donut did this a while ago, Donut said.

And I wrote a breakdown on Juan's work, too. And then you just scroll down, guys, and you'll see all the links to everybody's pages there. So it all directs the traffic back to the people. That's what it was all about. It's not about me. It's about getting the information out to my people. And this one was good. Paranoid American. You know my favorites from you, though, bro. Honestly, I love when you do the new technology.

Like you show the Paranoid programming series. Yeah, dude, I love that because that's what I'm into. I'm trying to learn everything with AI right now and implement it because if we don't use it, guess what? It's going to be used against us. And paranoid american. I mean, he's so next level when it comes to that. He knows everything, guys. So if you're interested in that and technology and artificial intelligence and all that, he's definitely the guy to follow on that.

I mean, he just has some phenomenal information when it comes to that, bro. How'd you get into that, bro? Artificial intelligence and stuff. Like, you've been ahead of the curb with it for years. I have a lot of the animators that I worked with at Disney, they were real big into everything new that was coming out when NFTs first came, like and I mean, before anyone knew what the hell they were.

One of my friends had me onto that and I saw the potential. This is where I first got interested in AI art, of just making something that could generate the art and then automatically post it. And people were fascinated with AI generated art at the time and it kind of dovetailed into the NFT thing. But the AI definitely grew out from there because my first project, I think, was in 2020, and I trained 1000 album covers, like old Seventy s and sixty s psychedelic album covers.

And I made this script using something called StyleGAN that would automatically generate like, an album cover. And I mean, in 2020, this was mind blowing. I couldn't even believe that anyone could do this, let alone that I was figuring out how to do it. But man, three years later, now anyone can just pop open discord or pop open run pod or diffusion and do this stuff. So I've been trying to make these Paranoid programming videos like, hey, here's 20 minutes where you can sit down with nothing, no knowledge whatsoever and come out with a finished product at the other end of it.

So, I mean, I've been doing it for 20 years, so I'm happy to show other people how to do it. Yeah, it's really cool, man. You better get some Conspiracy Cinema podcasts up here, bro. What's going on? I will, man. I'm battling with the website updates. I haven't updated this since I put it up like a year ago. I know, because this has to be old. Look at the beard length.

Look at the beard. Yeah, that video is old. Did you have fun with that one talking to Sam? I love him, dude. Yeah, actually, I just did another episode with Sam last week about bigfoot and hauntings and all kinds of stuff. Oh, did you? Where can people find that? On your YouTube? I think he's going to drop it on Tuesday. It's not even out yet. Okay, cool. That's awesome, man.

Yeah, I definitely love your work on that. And in Paranoid American, this is what I wanted to run past you. So this article is trending right now, and it's talking about Facebook trains its AI on. Yeah, of course. It just blew my mind. So I researched it in detail and I wrote a full blog about it. I even show you how back in 2003, the US defense Advanced Research Project called DARPA, they had this endeavor called Lifelog.

And that's what Facebook really is, guys. It's lifelog. The day Facebook launched was the day Lifelog stopped. And they had all these people there was a lot of backlash connected to Lifelog, but there's a full detailed report here of what lifelog is, the roots to. It tracing back to the 1945, and then it gets into what I think is going on and what my conclusion is for this whole thing.

So we also cover news over here, where if there's a trending article that's happening, like today's earthquake, for example, I'll cover it for you guys, and I'll report on what the media is telling us. But then I'll give you my real perspective on what I believe is going on. So I'll show you their narrative, and then I'll show you the real narrative. We also have the floodings taking place.

It's another one of our channels, which I think he uses all AI, but he covers some really cool stuff on storms and stuff. That's why I put his stuff up there. But I'm pretty sure, like, all his videos are narrated by artificial intelligence, which you should definitely get a better one that sounds more human. But anyways, I got a tutorial on that coming up soon, too. So just watch paranoid programming.

Yeah. Watch paranoid programming. And guys, look, I want to show you the proof. I want to show you the proof your boy Tommy predicted. Okay? So I wrote this Paranoid American on August 11, the anniversary of freaking heart, the 36 year anniversary. Which reminds me, in episode two or three, if you paid attention to the intro of The Changeling, there was a giant 360 right there when it's showing you, like, the city of New York.

And then there's a sign sticking out that said 360 on it, which I caught. That the 36, which is the 666 triangular number. And again, this year is the 36 year anniversary since Harp was patent at that day, the number one story in the world was the fires in Lahaina on August 9. And that's when Sirius the dog star was rising at the 38 degree elliptical mark. Now, that's very important because we all see what did I say here, guys, get ready for earthquake soon.

I said this back then, and I was showing you the connection to the 6. 9 magnitude earthquake that happened October 17 of 1989, right? How much more on point do I got to be? And then the nine two three code, which everybody's running around pretend like they figured it out. Guys, I've been talking about this since 2016. There's nobody that was talking about it before me, except maybe End Times Matrix News, which shout out to them.

You don't really see too many videos from them anymore, but they used to, right? Here is their old channel. And they were talking about it right around the same time I started talking about it. 20, 15, 16 area. So I always give people credit and pay homage. That's what you should do. And this nine, two three number, we had that astrological alignment that was fulfilled in 2017 that filled biblical prophecy, if you guys remember.

Let me turn this off and show you the thing I'm talking about because I forget what it's exactly called. There it is. Okay, so let me go back right there. Hold on a second, guys. Let it play this part. I'll show you exactly what I'm talking about real quick. These people were ahead of the game right here. This was the Astrological alignment that happened, the Revelations Twelve Fulfillment, a once in a 7000 year alignment.

It was September 23 of 2017, right? So I didn't even catch that back then. I totally missed that alignment. They caught that at End Times Matrix News and got me hip to that. But these three Phoenix phenomenons like Archaics talks about, there was these actual Phoenix events, these great resets that the first one happened, 911, which we're getting ready to have the anniversary of, right? That was on the east coast.

Now we're going to have one right there in that middle point where the twin eclipses make the X over the New Madrid fault line. And then we'll have one on the West Coast. That'll be the collapse of the physical currency, the coming forth of osiris. And it has to do with the galactic center, the alignment of this golden gates, which is a portal that opens from heaven to Earth, they say.

And I always give credit, so anything I have, you always see me giving credit to any information I find. That's how we should do it. But there's this dude on TikTok, bro, he's like doing all this 93 stuff, and I found out he's a follower of mine. And he did the video probably like two weeks after I dropped mine, three weeks later. And he don't even cite my work.

It just kind of is like, Come on, bro, cite my shit, you know? That's where you got it from. But it's cool, whatever it is. And the last thing I wanted to touch on real quick before we end this, check out Archaics's new video, the Titan Code. This is unreal. So I watched his video. It inspired me. It really doesn't have to do with what I touched on, but it inspired my work on it.

The Alchemical magic crafting a Titan out of a golem. The Titan Code is equivalent to 48 in Chaldean numerology element 48 is I can never pronounce this, right? Cadium, commonly 80% of this element is used in rechargeable nickel batteries. Moreover, it absorbs neutrons, which is why it's used in rods and nuclear reactors to control atomic fusion. It has an atomic weight of 112, which in Latin, what is 112? Golem magic code.

Now, what is a golem? A golem is an animated anamorphical bean from Jewish folklore, created entirely from inanimate matter, typically clay or mud. The Hebrew precursor of the work. Golem translates to shapeless mass. Historically, golems begin as lumps of clay mixing the iron and clay, and were molded into figures and animated through a charm or a sequence of letters forming a sacred word. So just like gematria, each letter has a vibration or frequency to it.

And you can use that some type of a sigil through word magic to animate these golems, through these spells they're casting in the Titan code equaling 48 with alien abduction. The alien is the new modern day golem. It's the new modern day Homunculus. And what does a battery do? It animates something. It brings it to life. Right, so, yeah, this whole theory on aliens and then this modern day Homunculus, I wrote a whole detailed breakdown on that.

I would like to interview Juan on this matter about the Homunculi and my theory on Know. Definitely like to hear his opinion. And last but not least, guys, over on Truthfultv. com, if you want to do a booking, just go down here to bookings right there. It's really easy and you could check out as a guest, right? So here's all of our different bookings. You just go on there.

You don't have to have a PayPal account, just go on and check out as guests. It's just through PayPal, so it's secure. And like I said, there was a little mix up with the calendar, but I got all that fixed. So if you booked your booking like a couple of weeks ago because I'm scheduled for months out at a time, sometimes it's like a month out. Right now I think it's three weeks.

But if you did it a couple of weeks ago, guys, when your appointment comes up, I'll probably have to push you forward either a couple of days or a month just to realign my calendar. After that, mix up with the time zone happens, but no big deal, we'll get that all sorted out. It's nothing to worry about, but that's pretty much it. I just wanted to plug on that.

And that's about what we have for you today at an hour and 36 minutes in. So unless you guys got any questions, I want to do one quick shout out. Yeah, go ahead. Happy 30th anniversary to Harp. If anyone doesn't know, the 30th anniversary present are pearls. So if you look up the Harp website, everyone should send a pearl necklace to Harp. It's the 36th year anniversary since their patent.

What's the. 36th anniversary gift. I don't know. Give them the 36 year anniversary. It's the 36th year. Hey, you tell them that. I'll be right back. I got to get my wing. Stop. It looks like china. So we give them china. Bone china. So, yeah, for anyone that wants to celebrate the 30th anniversary of Harp, you send them a pearl necklace. And if you want to celebrate the 36th anniversary, you bone china, and that's what Harp wants from you, which, ironically, is where the Meg would probably have ended up if we did a decode on the Meg.

That's pretty much all just about bending over to another quick sink that started early on in this episode. Tommy was talking about the eagle and the serpent, and there's something called amaru in Incan mythology, where there's this creature, it's almost like Chimera, where it is part condor, part serpent. And also in Peruvian folklore, there's this whole story about the Puma and the condor and the serpent. So this concept of eagle and serpent, I think is very heavy in sort of American symbolism.

I think even Quesicotal, which is like the plumed serpent, which is also a combination, mean I'll just say eagle and serpent because it's kind of like phoenix, eagle, serpent. So I feel like in the Americas, specifically, the serpent and plumed feather, eagle, condor symbolism is pretty strong and prevalent. Here I come. Of course they forgot my drink. It was the bone china is the 36th anniversary. What's that mean, bone china? I don't know.

I think it's, like, actually things made out of bone or a certain type of china. Oh, bone china. Okay. Like some type of plate made out of bone, I guess. Traditionally, it was made out of cowbone. So everybody send your cowbones to Harp this year to celebrate their 36th anniversary. Yeah, and I'm over here about to have a heart attack from running down the steps, so yeah. Guys, thank you.

We love you all. Hope you enjoyed the podcast. We're out. See you. .
Video Transcription
MP3 Audio