The Ancient Giants of America ruled as kings. 
Below this blog, there's a full documentary video about American giants.
Abraham Lincoln, in a speech from 1848, notably remarked, "The eyes of that species of extinct Giant, whose bones fill the Mounds of America, have gazed on Niagara, as ours do now." This statement underscores a long-standing intrigue surrounding the ancient mounds scattered across the United States, particularly in West Virginia, which are central to the narrative of the Giants who were once thought to have inhabited America.
The mounds in West Virginia, notably in Charleston, Wheeling, and Moundsville, are some of the most prominent in terms of size and quantity in the U.S. In 1883, a significant excavation was undertaken by the Smithsonian Institute at the South Charleston Mound. Led by Colonel Morris, the team conducted a thorough investigation of the 50 mounds found there, compiling a comprehensive report. This report detailed the discovery of several giant skeletons, one measuring 7 feet 6 inches in height and adorned with heavy copper bracelets and mica plates.
Additionally, another mound revealed a unique arrangement of ten skeletons encircling another giant, alongside underground vaults, various ornaments made of copper and mica, religious artifacts, pipes, and spearheads. At a depth of nine feet, the team unearthed another giant in a bark coffin, notable for its "compressed or flat-head type" skull, resembling the "conehead" characteristics found in other regions like South America and Egypt.
The exploration continued in Wheeling, WV, where archaeologists discovered more giants with heights ranging between 6 feet 7 inches to 7 feet 6 inches. These skeletons had unusual skull shapes with low, gradually sloping foreheads and prominently protruding rear skulls, differing significantly from modern human skulls.
Near these discoveries, an eight-mile wall and a hilltop temple were located in Marshall County on Mount Carbon. Downstream along the Cheat River, settlers in 1774 came across what they termed "The Giant Town," which included numerous large skeletons, the most notable being an 8-foot-tall male. These findings contribute to a fascinating chapter in American archaeology, offering a glimpse into a mysterious and ancient past that continues to captivate researchers and historians.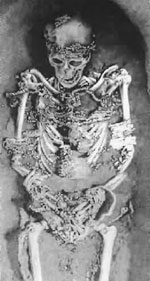 Tags
10 Strange Facts Concerning the Red-Haired Giants of Lovelock Cave
Ancient Giants of North America | Were they ALIENS?
ancient giants who ruled america
Giant kings of America
giants in north america
Giants of Tartaria
Giants of Tartaria - #thinkbig
historical records and illustrated
nephilim
NEPHILIM KINGS
person accounts state historical
Red-Haired Giants of Lovelock Cave
smithsonian institution shows
suppression by the smithsonian